Fire Pits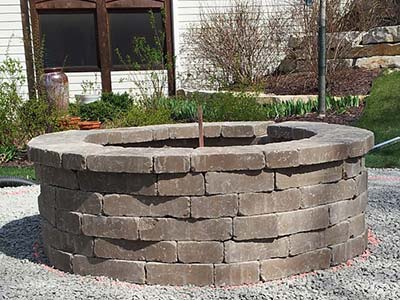 As a homeowner, you put in a significant amount of effort time and investment in getting your landscape designed and planned by experts. While you are able to use all these spaces optimally in the summer, it can become very difficult to use your patio or deck or any other area in the landscape comfortably during the winter months. The nip in the air can become a major deterrent to using these areas to relax in or entertain friends.
The best way to ensure that you are able to make as much use of these spaces in the winter as you do during the summertime is to get fire features installed. We at Grandiflora Landscaping Inc. are a full-service landscaping company that has been operating in this industry for more than 30 years. We have been catering to customers in and around Hartland, Waukesha, Oconomowoc, and Mequon for a number of years.
Fire Pit Design and Installation
Our company has expanded its customer base to Brookfield, Milwaukee, as well as Watertown. We have successfully completed a significant number of projects across Menomonee Falls, Germantown, Pewaukee and the surrounding areas. In most cases, our customers request for fire pit installations as part of a broader landscape project. But if you want to get this structure installed in an existing yard, we can do that too. Here are some facts about outdoor fire pit features:
A fire pit is a great choice if you feel that you don't want to install a large and elaborate fireplace.
The fire pit can be installed in any area of your yard including on a raised patio or deck.
The element can be built with concrete blocks and we can affix stone or brick veneer to enhance its appearance.
You also have the option to get a natural stone fire pit for your yard.
The fire pit can be filled with recycled glass or river rock.
We can also design and plan the area around the fire feature and can install pavers around it.
If you prefer, we can also design and install half-height walls with inbuilt seating along the periphery of the paved space around the yard fire pit.
We can also build custom outdoor furniture for this space.
Our experts will plan the plumbing well if you need to extend a gas line from your home into the yard space for your fire pit.
Custom Fire Pit Plans
When we handle your patio fire pit design and installation project, you have the assurance that the work will be completed very methodically and professionally. Our on-site supervisor will make sure that the work is completed to very high-quality standards and within the stipulated timeframe.

If you are looking for excellent start-to-end landscaping solutions, Grandiflora Landscaping Inc. is the company to come to. We handle every aspect of these projects and make sure you get top notch solutions at a very competitive fire pit cost. For any more information about our services feel free to contact us at 262-370-3985. You can also send us your project details via this Online Form and one of our experts will contact you shortly.

Click on the images below to view a larger display.


Raised patio with firepit and pillars

Firepit

Firepit in progress

Fireplace