Walls & Pillars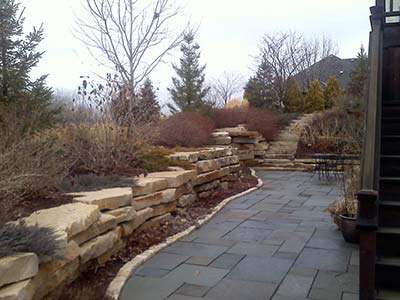 No landscape is complete without hardscape features and these installations add to the solidity and integrity of the landscape. When a landscape is being planned, our designers take into account the contours of the land features to be installed there and whether the available space is leveled properly or not. Hardscaping includes a number of different features including walls and pillars.
We at Grandiflora Landscaping Inc. are a full-service landscaping company that has been operating in this industry for more than 30 years. We have been catering to customers in and around Hartland, Waukesha, Oconomowoc, and Mequon for a number of years.
Our company has expanded its customer base to Brookfield, Milwaukee, as well as Watertown. We have successfully completed a significant number of retaining wall construction projects across Menomonee Falls, Germantown, Pewaukee and the surrounding areas.
Types of Outdoor Walls We Install
When we are constructing outdoor pillars or walls care is taken to use the best weather-resistant materials and skilled and expert local stone masons and hardscaping experts handle the job. This ensures the features last for a long time and stay looking good for a number of years. Here is a detailed look at the different types of walls and pillars we design and install:
Retaining Walls - These are segmental block walls which are primarily built to provide support to the landscape. There are a number of different retaining wall systems to choose from and these are available in a variety of styles and designs as well. If required, we can also incorporate in-built seating or planter spaces in these walls.


Small Walls - We can also build small retaining walls in multi-leveled landscapes and Lannonstone walls and steps in areas that need to be connected at different levels. Our diamond block walls are also very popular features and many of our clients request that these be built at strategic points in the landscape.


Low-Height Garden Walls - There are times when you may want a slightly elevated flowerbed or lawn space; a low height wall positioned and built in the right manner can help create the perfect spot for these installations.


Boundary Walls - A stone boundary wall is one of the very first things that people get built when they move into a new property. We have the expertise to design and build different types of boundary walls made of concrete and veneer, blocks etc.


Pillars - We can construct concrete and rock pillars as part of a boundary wall construction or for supporting outdoor features such as pergolas. Some of our clients also request for address pillars at the entrance to their property and we can design and construct these as well.
Custom Garden Wall Design
When we are building retaining walls and stone pillars, the focus is on creating features that will be solid and durable, functional yet aesthetically appealing. This involves making sure that the materials and stylings of the features we build complement the appearance of your landscape.

If you are looking for excellent start-to-end yard wall installation solutions, Grandiflora Landscaping Inc. is the company to come to. We handle every aspect of these projects and make sure you get high quality solutions at a very competitive wall construction cost. For any more information about our services feel free to contact us at 262-370-3985. You can also send us your project details via this Online Form and one of our experts will contact you shortly.

Click on the images below to view a larger display.


Small retaining wall

Small retaining wall

Lannonstone wall and steps

Lannonstone wall and steps

Concrete planter box

Concrete planter box

Address pillar

Diamond block retaining wall