Landscape Design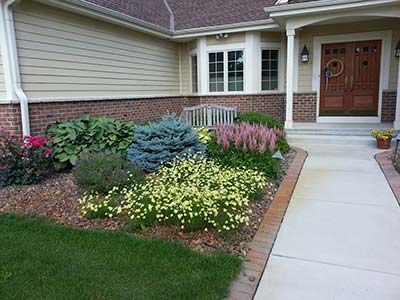 Getting a landscape installation done isn't just about adding some plants and trees to the landscape. It's about making sure that all the features and elements in your yard are planned with attention to detail and that the materials are chosen with care. Landscape design requires a considerable amount of skill, creativity, knowledge, experience, and the right resources too.
This is why it's important to hire skilled landscape designers for the job. We at Grandiflora Landscaping Inc. are a full-service landscaping company that has been operating in this industry for more than 30 years. We have been catering to customers in and around Hartland, Waukesha, Oconomowoc, and Mequon for a number of years.
Our company has expanded its customer base to Brookfield, Milwaukee, as well as Watertown. We have successfully completed a significant number of residential landscape design projects across Menomonee Falls, Germantown, Pewaukee and the surrounding areas. With the vast experience we have in this space, we are able to provide custom landscape plans that will help create stunningly beautiful and functional spaces that you will be encouraged to use every single day.
Various Yard Design Elements
Our designers adopt a skilled and creative approach to their work and take a number of different aspects into account such as:
Softscaping- water-efficient plants, shrubs, trees flower beds, planters and more.
Hardscaping- the masonry elements like low maintenance pathways and walkways, small and full-scale retaining walls, garden steps, planters, patios, decks etc.
Installation of irrigation systems based on the types of plants and lawns that are to be installed
Drainage systems are a vital component of any landscape big and small and these will be included in the plans too.
Installation of fire features such as fire pits and fireplaces.
Installation of water features such as ponds, fountains, and waterfalls.
Decorative stonework
Outdoor features such as pergolas and arbors
Outdoor lighting
Outdoor furniture
Comprehensive Residential Landscape Design
As mentioned earlier, we are a full-service landscape company and there are some distinct advantages to hiring us for your project such as:
We have very deep knowledge of design and materials and use this information to create plans that will ensure your landscapes are resilient, aesthetically-appealing and sustainable.
Since our company also handles the landscape installation aspect, our designers are able to work very closely with the installation team to provide direction while the work is in progress.
Custom Landscape Design
When the landscape planners are designing various elements of the landscape, they focus on a number of other things such as making sure that all the different features are used in the right proportion. They also ensure that the design they provide complements the architecture of your home structure.

For example, if your home has been built on a very modernistic style, the gardens will reflect that style. This approach helps create a very cohesive look on your property and increases its curb appeal and value as well. If you are looking for excellent landscape design solutions, Grandiflora Landscapin Inc. is the company to come to.

We handle every aspect of these projects and make sure you get high-quality solutions at a very competitive landscape design cost. For any more information about our services feel free to contact us at 262-370-3985. You can also send us your project details via this Online Form and one of our experts will contact you shortly.

Click on the images below to view a larger display.


Front entryway

Quiet gardens

Fire pit with knee wall and spardust path

Retaining wall and paver patio