Landscape & Hardscape Services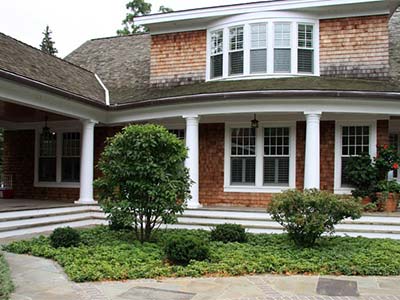 We at Grandiflora Landscaping Inc. are a full-service landscaping company that has been operating in this industry for more than 30 years. We have been catering to customers in and around Hartland, Waukesha, Oconomowoc, and Mequon for a number of years. Our company has expanded its customer base to Brookfield, Milwaukee, as well as Watertown. We have successfully completed a significant number of projects across Menomonee Falls, Germantown, Pewaukee and the surrounding areas. The range of services we offer include:
Landscaping
Your landscape is a combination of various features and as experienced landscapers, we have the expertise to design and install landscapes that are aesthetically-appealing and functional too. Good landscape planning takes into account aspects such as the contour of the land, its existing features like large trees and plants or various levels etc. When we handle any landscape project, we keep all these aspects in view and make sure that you get the type of solutions you want at pricing that fits perfectly into your budget.
Landscape Design
Designing a landscape isn't something you can entrust to a novice. It takes skill, knowledge, and creativity to create landscape designs that will meet the needs of our clients, create spaces that will be functional and attractive. A well-designed landscape will have various features in the right proportion, weather-resistant materials, and styling that will complement the design and theme of the overall property and the structure built on it. We provide customized landscape design solutions that are right in line with your needs.
Landscape Installation
Once the landscape planning and design have been done, we also handle all the installation work expertly. Care is taken to ensure that all the features are installed using the right techniques and equipment. We follow the designs to the tee and install everything from plantings and trees to pavers, retaining walls, concrete features, water features and more. Expert landscape installers handle this job and this ensures the stability and longevity of the landscape.
Landscape Maintenance
Landscape design is the first phase of the project and installation comes next. While we take utmost care to ensure that excellent quality materials and workmanship are used in the work, even the most skillfully designed and expertly installed landscapes need regular maintenance and care. We are a full-service company and pride ourselves on the fact that we can provide excellent landscape maintenance services that include plant care, lawn care, as well as hardscape maintenance. We use the best materials in our work and this helps ensure that your outdoor spaces look stunning and stay healthy right round the year.
Patios & Walks
Most residential properties have patios. These features are an extension of the indoor areas of your home and they add expansiveness to the living areas, but allow you to enjoy the greenery and openness of your yard as well. In short, a patio is a transitional space that needs to be designed keeping in mind the architectural styling of your home as well as the features in your landscape. We also design paver walkways that can be used to navigate through the landscape. They are the best way to access various areas of the yard without damaging the flower beds and lawns.
Water Features
In addition to the hardscaping and softscaping features in your landscape, you can also include water features such as fountains, waterfalls, and ponds. These elements help create a very tranquil atmosphere in your yard and zones that you can use to relax and unwind in the company of friends and family. The custom-designed water features we install for you will enhance the appeal and value of your property and add a unique look to the space.
Decks & Fences
A deck is another great addition to your yard and we custom-design and install these for you. Most of our customers prefer hardwood decks and these provide a very classic look to the outdoor spaces. We can also build composite decking, cedar decks and other types of decks to complement the style of your landscape. In addition to these, we also install different types of fences made of materials such as composite, wood, vinyl, aluminum, metal etc. We ensure that the best weather-resistant materials are used in the work and that the workmanship is top-of-the-line.
Arbors & Pergolas
Most property owners want to ensure that the outdoor spaces of their property look unique and appealing. This is where arbors and pergolas come into the picture. These features are a great addition to your landscape. They provide semi-shaded spaces that can be used even when the sun is shining down. You can choose to get this handcrafted feature for any area of your property. Cedar pergolas are very popular and most homeowners request for these features to be built on their property. An arbor adds to the beauty of your landscape and we can custom design and build this element.
Outdoor Furniture
If you want to make optimum use of your yard space you need to add some outdoor furniture to it as well. When you hire us for your landscaping requirements, you don't have to look any further for these other services either. We can design and build all types of outdoor chairs, tables, and benches as well as planter boxes and wood bins. We use high-grade hardwood in the construction and this ensures the longevity of the features. We also have a team of highly-skilled and experienced carpentersthat understand the nitty-gritty of structuring outdoor furniture in the best possible way. Not only is the furniture that we build sturdy and strong, but it is aesthetically appealing as well.
Walls & Pillars
Most landscapes require some wall constructions. We have the expertise to design & build retaining walls, small garden walls, walls with planters and inbuilt seating as well as steps and walls for various areas of your landscape. In addition, we can install address pillars, boundary wall pillars as well as pillars in other areas of the yard. These could be made using concrete and veneer or concrete blocks or even natural rock. All these elements add to the resilience and longevity as well as the stability of your yard and lend these outdoor spaces a very structured look.
Fire Pits
We have the expertise and skill to design and install outdoor fire pits for our customers. These features are generally built using segmental blocks but we can also construct them with natural stone. A fire pit is a great addition to your yard and it allows you to use the outdoor areas of your property even when there is a nip in the air. We handle the entire design and build of your outdoor fireplace and ensure the design and styling blends in seamlessly with the styling of your overall landscape. This compact feature can be installed in any area of your yard including on a patio or deck.
Retaining Walls
We have an impressive line of segmental block retaining walls. These features provide your landscape the support it needs and helps prevent mudslides and soil erosion. There are a number of different retaining wall systems to opt for and you can choose from a number of different varieties such as Anchor Diamond, Anchor Highland Stone, Belair Wall, Mega Tandem, Weston Stone and more. Since there is such a wide variety to choose from you are sure to find something that suits your requirements and budget.
Pavers
Pavers are very popular materials that are widely used in most landscaping projects. We carry a wide range of interlocking concrete pavers that are ideal for any part of your landscape such as patios and decks, driveways, walkways, pathways, fireplace and fire pit zones, outdoor kitchens and more. You will find that there are a large number of designs and colors, shapes, sizes and patterns to choose from. This helps you create a very unique look on your property. We also have a very good collection of clay pavers if you prefer a more classic look in your landscape.
If you are looking for excellent start-to-end landscaping solutions, Grandiflora Landscaping Inc. is the company to come to. We handle every aspect of these projects and make sure you get high-quality solutions at a very competitive landscaping cost. For any more information about our services feel free to contact us at 262-370-3985. You can also send us your project details via this Online Form and one of our experts will contact you shortly.