Patios & Walks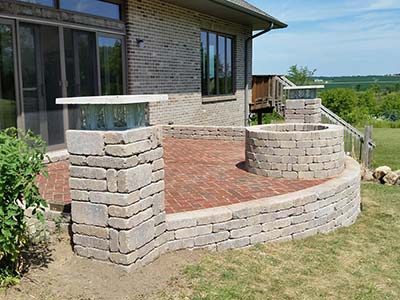 When you install a landscape, you want to be able to use every area of it in the best possible way. This is why you install various outdoor features in your yard. Most homeowners like to get a patio installed and this element is a great addition to your property. Not only does it give you the chance to use your yard in a more optimal manner, but also enhances the functionality of the space.
We at Grandiflora Landscaping Inc. are a full-service landscaping company that has been operating in this industry for more than 30 years. We have been catering to customers in and around Hartland, Waukesha, Oconomowoc, and Mequon for a number of years.
Our company has expanded its customer base to Brookfield, Milwaukee, as well as Watertown. We have successfully completed a significant number of patio and garden walkway construction projects across Menomonee Falls, Germantown, Pewaukee and the surrounding areas.
Patio Design and Construction
When we handle the construction of these features, you can rest assured that the materials and workmanship will be top-of-the-line. We focus on providing custom paver patio design and build services. We understand that every homeowner will have some specific requirements in terms of how they want their patio to look and can construct a paver and stone patio & walkways that extend out into the yard. In most instances, these two features are installed as part of a single project, but if you want to get just a patio installed or need paver walkways weaving through your landscape, we can tackle that job for you as well.
Paver Design and Construction
When we handle these projects, we ensure that high-quality interlocking patio pavers are used in the work and that's strong and resilient edging is used as well. This helps ensure that the patio paver stones stay firmly in place. We also recognize that you want your walkways to be durable and its why we prepare the base very well and compact the sand expertly before installing the pavers.
We have the creativity to use pavers of different shapes, sizes, and colors to create unique and stunning designs in the landscaping. If the patio is at a higher level than the rest of the yard, we can also design and install steps that connect to the stone walkways leading to different areas of your yard.
Custom Patio Plans
The entire project will be handled professionally and you can rest assured that the work will be completed within the specified timeframe. Our experts work closely with you to ensure you get high-quality, cost-effective patio and walkway installations you had envisioned. If you are looking for excellent start-to-end walkway and patio construction solutions, Grandiflora Landscaping Inc. is the company to come to.

We handle every aspect of these projects and make sure you get high-quality solutions at a very competitive patio installation cost. For any more information about our services feel free to contact us at 262-370-3985. You can also send us your project details via this Online Form and one of our experts will contact you shortly.

Click on the images below to view a larger display.


Reed Street Yards

Raised patio with firepit and pillars

Raised patio with firepit and pillars

Raised patio with firepit and pillars

Paver and stone path

Paver walk from driveway

Paver walk from stairs

Paver walk from stairs

Patio with knee walls and pillars